Buy Now and Pay Over Time
Our flexible financing options allow you to make monthly payments on your new air conditioning system and keep you comfortable when you need it the most. We offer traditional financing and even Rent-to-Own—no matter your situation, we have you covered!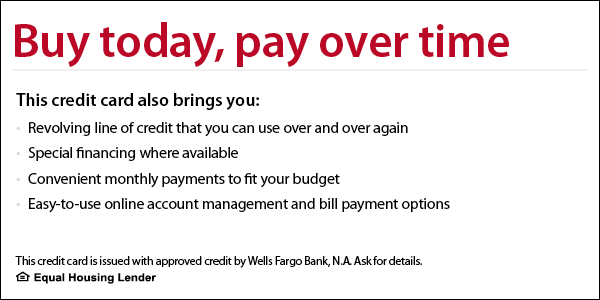 Buy now and pay over time
A Carrier® credit card is a convenient way to pay for goods and services. Plus, as a Carrier® cardholder you can enjoy other great benefits throughout the year, such as:
Special promotional offers where available
Revolving line of credit that you can use for future purchases
Quick credit decision
Convenient monthly payments to fit your budget
Easy-to-use online account management and bill payment options
The following special terms promotions may be available to you on qualifying purchases if your application is approved. Please ask your merchant which promotions they are offering.
The Carrier® credit card is issued by Wells Fargo Bank, N.A. with approved credit. Apply for the Carrier® credit card by selecting the button below. Carrier® is a Registered Trademark of Carrier Corporation.
2.
 Get a response from us right away.
3.
 If qualified, get your new credit card in the mail.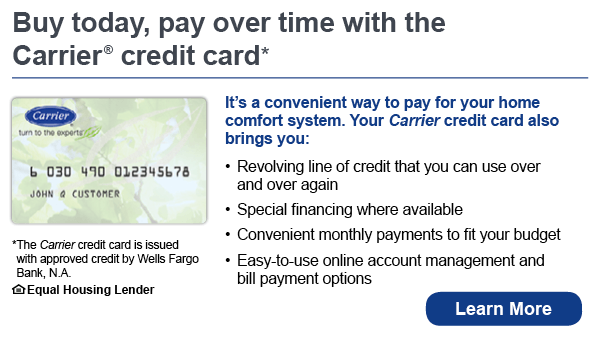 Microf is a relationship based company that places top priority on the wants and needs of our customers. Our innovative rent-to-own strategy provides unmatched flexibility to consumers through quick response times and multiple payment terms and options. Microf helps restore the heating and cooling needs of the consumer with an affordable monthly payment through our extensive contractor network.
5 Things You Need to Know About Microf:
We specialize in lease purchase options for residential replacement HVAC systems.
We have a simple application process.
We offer near-real-time Pre-Approval, Further Review, or Decline decisions.
We offer convenient and affordable monthly renewal payment options based on 36, 48, or 60 months to ownership.
Customers can take advantage of meaningful monthly payment and early purchase option discounts.
For more information, please call 855-MICROF1 (855.642.7631)

Microf's innovative rent-to-own strategy provides unmatched flexibility to consumers through limited declinations, quick response times, multiple payment options, no credit checks and extensive contract term choices.
*The transaction advertised is for a rental purchase agreement. Ownership of leased merchandise not acquired until all required payments have been made by the lessee and lessee exercises the purchase option. Not all services and benefits available in all states.
"Fast, affordable and professional! The BEST family owned business in the area!!"

Katie F.
If you interested in our Financing Services, give us a call!